http://nikonclspracticalguide.blogspot.com
http://www.neilvn.com/tangents/index.html
http://www.strobist.blogspot.com/
http://www.photographytips.com/page.cfm/374
http://jzportraits.home.att.net/
Posing:
http://www.phototraining4u.com/topics/posing-guides
http://web.archive.org/web/20060721192257/http://www.photocrack.com/pages/download/ModelPose15.html
http://web.archive.org/web/20070321221419/http://www.eddiej-photography.co.uk/posing-the-female.htm
http://photographycourse.net/12-basic-posing-tips
http://www.jurgita.com/articles-id104.html
http://www.freedigitalphotographytutorials.com/advanced-tutorials/35-photography-poses-tips-tricks-guidelines-part-2/
http://www.lighting-essentials.com/shoot-thru-umbrella-and-bounce-umbrella-a-comparison/
http://www.lighting-essentials.com/lighting-diagram-tool-for-lighting-essentials/
http://oneperfectmoment.com/blog/images/boudoir/album-finao/NV1_9046.jpg
http://oneperfectmoment.com/blog/images/boudoir/album-finao/NV1_9047.jpg
forum:
http://neilvn.com/tangents/2007/10/25/directional-light-from-your-on-camera-flash/#comment-13261
After Dark photography education – Cincinnati, anemia
OH
In an earlier post I mentioned how impressed I was with After Dark's workshops & seminar series in Las Vegas. I was invited by Dave Junion to teach at the Cincinnati venue this past week as one of the Mentors.  I presented 4 seminars and shooting sessions, infection
and another impromptu demonstration late the one night. It was exhilarating and energizing to be a part of it.
After Dark has a certain structure –  10 areas / pods set up for seminar presentations; and 10 studio bays set up where Mentors can teach in a direct hands-on manner. But all this doesn't really describe the easy-going flow of activity and learning and sharing that goes on. In that earlier post I described After Dark as 'controlled anarchy'. And that is what makes it so unique. You can move around between presentations and shoots, and learn from anyone. You can even ask any of the Mentors or attendees to help you. It's an incredibly supportive and nourishing environment for any photographer.
Just as cool is that there are studio bays that are open, which might not be busy at any point. You can then mark down that you want to spend some time there. You also get the opportunity to play with a huge variety of lighting gear. You can play around on your own, or have someone help you. You can make mistakes. You don't have to impress anyone. You just have to learn and have fun with it all …
This fairly straight-forward portrait above was taken with just a single Westcott 7′ Parabolic Umbrella (B&H). This massively large umbrella isn't something I'd normally be able to play with – the studio space I can scrounge in my home is far too small for this impressive light modifier. So it was interesting to play around with it. I really really loved the light from this parabolic umbrella. The way it wraps light around your subject is just wonderful. Oh, and yes, there were models available.
By placing the light fairly close to the background, I got enough light on the background that I didn't even need to light the background to bring it up close to white. This shot from behind will give you some idea of the size of this monster light modifier. (It is surprisingly inexpensive too.) It just seems like one of those can't-go-wrong ways of lighting your subject in the studio.
Finally, here is another image that I grabbed at one of the studio bays. Our gorgeous model was lit by a ring-light (continuous light), giving that typical Fashion look with the very even light on her. I shot this with my Fuji X100, so I didn't have the telephoto reach that others had, so I decided to include the ring-light as part of the composition.
By the way, that is the out-of-camera JPG from the Fuji X100, shot at 1/500 @ f4 @ 800 ISO … and it looks wonderful at 100%
Anyway, the point about all this is that you get to try various lighting setups and equipment and techniques on your own, or with a Mentor or any other knowledgeable photographer. After Dark is just a cool place to be if you're considering a lighting and photography workshop. Check their website, or join them on Facebook, to be kept informed about the future dates and events.
If you find these articles interesting and of value, then you can help by using
these affiliate links to order equipment & other goodies.   Thank you!
Stay informed of new articles via the monthly newsletter.
Also join us on the Tangents forum for further discussions.
now available on iBooks : on-camera / off-camera flash photography
I'm very happy to announce that both my books on flash photography are now available on the Apple iBook Store. The image quality is very good, sale
and like the other books available on iBooks, the readability is excellent. There is a difference in price between the two books that I can't explain – these things are out of my hands – however, the off-camera flash book is available for less than $20.00
So for those who have requested an electronic version of these two books … there they are now!
Of course, the printed books are available via Amazon, or can be ordered directly from me for an autographed copy.
initial impression: Fuji X100 – not quite the review yet
The Fuji X100 must be one of the most eagerly awaited cameras in recent times. The camera just looks beautiful. Retro-cool. With initial reports being mostly very favorable, endocrinologist
I was quite keen to get my hands on one of these. My X100 arrived last week, just before I was to leave for the After Dark Photography Education workshops in Cincinnati, OH. What better time to geek out over a camera with gorgeous models around and so much opportunity to play with photo gear and lightning techniques.
The photograph above of Alyssa, (one of our models), was lit by LED video light. Now, when using video lights for photography, you're dealing with wide apertures and high ISOs. An immediate challenge for a camera. And the Fuji X100 excelled. The image above was from the in-camera JPG, with the color balance tweaked slighting in Photoshop. The image was also slightly straightened.
camera settings: 1/60 @ f2 @ 1000 ISO … manual exposure mode
Now before I show the 100% crop of the shadow areas in that image …
here is the camera itself:
Clearly designed with an eye on the classic cameras, the Fuji just looks beautiful. But the camera's looks wouldn't mean much if the image quality doesn't hold up.
image quality of the Fuji X100
For an overview of the camera's specifications, the best place would be Fuji's official site. What is important to note here, is that the Fuji X100 is a 12 megapixel rangefinder-styled digital camera, with an APS-C size sensor. So you wouldn't expect digital noise to be as well-controlled as it is.
Looking again at the image at the top:
From the area below her left elbow (camera right) – 1000 ISO
(not sharpened in Photoshop)
But this in itself wouldn't be impressive if the low level of digital noise was achieved at the cost of detail. Now, this isn't a proper review yet, so there aren't comparative images yet, but the next image should give you an idea of the amount of detail this camera can capture. This next image was shot at 800 ISO. (Close enough to 1000 ISO to still give you an idea of the way the noise is controlled vs potential reduction in detail.)
Also shot at the After Dark workshops, I bumped into the group that my buddy Chuck Arlund was leading around the plaza in Cincinnati. He had somehow convinced a model to get into the fountain. Using only the available light at the fountain
camera settings: 1/125 @ f2 @ 800 ISO  … manual exposure mode.
Available light only.
A 100% crop of the statue under the fountain:  (not sharpened in Photoshop)
The detail is there! With a further in-depth review, we'll definitely have a look at how the camera performs at higher ISOs than merely 800 and 1000 ISO. With the initial images I shot with the X100, I am quite happy with the image quality.
controls, operation & handling of the Fuji X100
Here I have to confess two things immediately:
- I have no experience of range-finder cameras aside from briefly playing with Leicas that friends owned. But I never shot with one. So, no experience of rangefinders. But then, the Fuji X100 isn't a range-finder camera. It is styled like one.
- At this point I haven't read the manual yet. I've been too busy to sit down with the manual and figure the camera out from start-to-end before using it. I've also been too excited about the camera to not just go out and just use it. I also think it might be easier to read and understand the manual when there is some familiarity with the camera already. So, I'll get there.
But in the meantime, I have used the camera already.
So for all that, being a complete noob with rangefinders in general and the Fuji X100 specifically, I found the camera easy to understand. I am sure there will be more details and functions that will be revealed once I delve deeper and properly into it. But for now, the camera isn't a mysterious awkward camera. The operation and the menu is simple enough to decipher from just placing your fingers on it.
So how does the camera feel? Surprisingly light. From the metal used in building the camera, you'd expect something more hefty, but the Fuji X100 is both light and fairly compact. (And have I mentioned yet that it looks beautiful and elegant?)
The shutter dial and aperture dial and exposure compensation dials, all feel solid with a silky movement. This camera quietly tells you that it is a quality machine when you handle it. It feels good to hold and use. Even the lens cup comes off with a soft gliding movement.
I should also mention that the Fuji X100 has a fixed 23mm f2 lens, which is the equivalent of a 35mm f2 lens when compared to a 35mm or full-frame digital camera.
What I will have to adapt to in using this camera, is that the X100 isn't a Nikon D3. The Nikon D3 is a fast, responsive brute of a machine. The X100 needs a more considered approach to taking a photograph. The simple act of looking through the viewfinder to the side of the camera is quite different than looking through the viewfinder of an SLR. The controls are also different than a DSLR. I am used to having the ISO selection immediately available. For me, choosing the ISO is as much part of exposure metering as is it is to change the aperture or shutter speed. With the Fuji X100, I changed the Fn button to bring up the ISO so I didn't have to go through the menu to find it first.
Now, much mention has been made of the Hybrid viewfinder of the X100.
To quote from Fuji's site:
The Hybrid Viewfinder combines the window-type "bright frame" optical viewfinder found in high-end film cameras, such as 35mm or medium-format cameras; and the electronic viewfinder system incorporated in fixed single lens or mirror-less digital cameras.
You have the choice of the electronic viewfinder (which I dislike a lot in every camera that I've encountered it), and the optical viewfinder. What you do need to actually see for yourself, is how bright this viewfinder is. Even better, it has all the info you need .. aperture, ISO, metering display … and best of all, a histogram overlay in the one corner.
Every photographer that I've shown the camera to, has responded with an "oh wow!" or "holy crap!" when they look through the viewfinder. Reading about it on a website or on a brochure doesn't quite describe how impressive it is when you actually use it. Fuji really did their home-work on this.
Better yet, it is possible to set the View Mode of the camera, so that the live preview can be seen on the back of the camera (like pretty much all compact cameras behave) … but the moment you lift the camera to your eye, the camera senses it, and moves the display inside the viewfinder. So the camera (for one of the View Modes), will do that – flip between LCD preview on the back, and the view inside the viewfinder. Elegant!
So far I really like the camera. It does have a few quirks which I'll get to with the proper review. (I also need to familiarize myself properly with the camera.)
You may well ask why I bought the Fuji X100 and what I might use it for. Since Fuji is billing this as The Professional's Choice, one may well wonder where the Fuji X100 would fit in with a working professional's kit. Here I can only answer for myself – currently I shoot with Nikon D3 bodies, and I would not want to hamper myself in any way during a paid shoot or event, by using a camera that is less responsive or is limited to only one fixed lens.
For my personal photography, I wanted a camera that is a point-and-shoot, but without being too simplified that I have no control over it. I also wanted image quality that wouldn't fall down entirely in comparison to a camera like the Nikon D3. And this is where the Fuji X100 fits in perfectly. It is small enough to be  walk-around camera. It has superb image quality (going by the first images I've taken with it.) And then it offers something that most smaller cameras don't have – a classic elegance and stylishness that was meant to appeal to the serious photographer and connoisseur. The Professional's Choice.
But we'll come back to all this with a more complete review of a camera that is destined to become a modern classic.
If you find these articles interesting and of value, then you can help by using
these affiliate links to order equipment & other goodies.   Thank you!
Stay informed of new articles via the monthly newsletter.
Also join us on the Tangents forum for further discussions.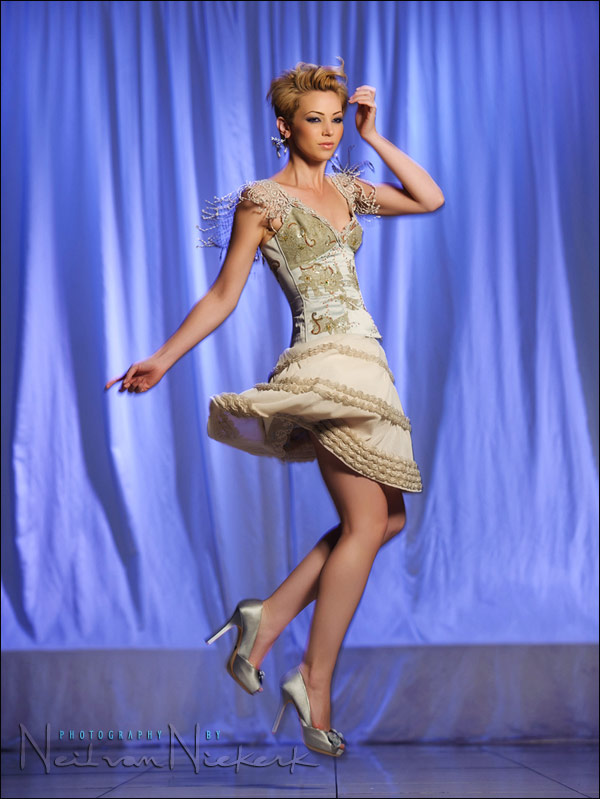 mixing the white balance of different light sources
While we would do well to gel our flash when working in a very warm or incandescent spectrum, here
(such as when shooting at a venue bathed in Tungsten light), the last few articles showed how we can use it to our advantage when using different light sources with different color balance. The effect can be quite dramatic.
The examples shown have been varied:
In the first example (with Bethany as our model), we looked at using random found available light as portrait lighting. With the next example, the effect was purposely sought by gelling our flash for effect. A similar contrast in white balance can also be found by using a Tungsten-gelled LED video light in a non-tungsten environment, forcing all the daylight colors to go toward a bold blue tone. The most recent example showed how we could use the modeling light in the studio with additional flash as rim light, to give a punchy image with warm colors.
Those four examples all had entirely different scenarios, but the same idea was used in all  of them to get punchy colorful images – using light sources with different white / color balance.
This image here at the top was shot with a similar set-up as the sequence where we gelled our main flash with 1/2 CTS gels to allow the background to go blue …
With this first image, both the foreground flash and the background flash were ungelled, and shot at Cloudy WB. The blue tint of the drapes in the background, were from lights in the ceiling. This is exactly the same light that gave the strong blue background in the other article on random found available light as portrait lighting.
With this image which is the starting point, I decided we could make the background far more bold by once again gelling our main flash (in the Lastolite Ezyboz softbox), with two 1/2 CTS gels.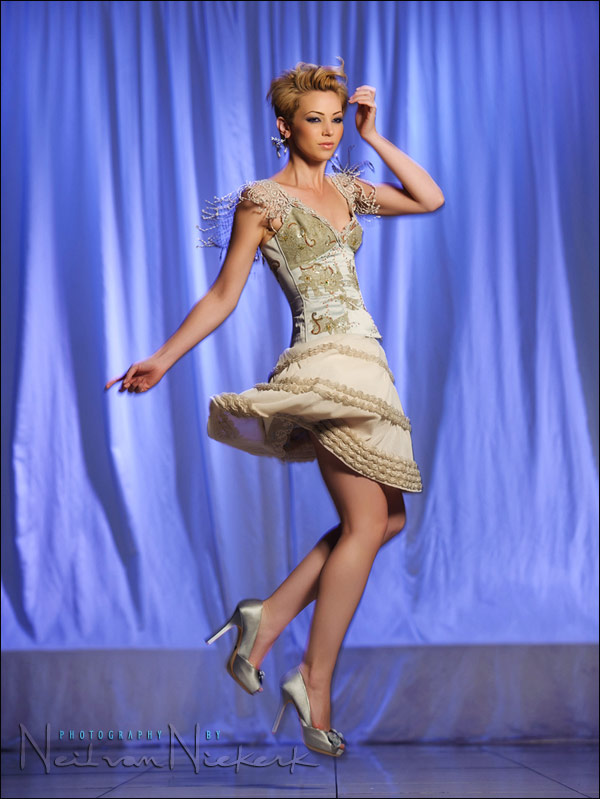 And this is how we ended up with the final image shown at the top, where the background goes to a neon blue. Quite striking.
The main flash on her was a speedlight in a Lastolite Ezybox softbox, set to camera right. The background light was a speedlight bounced straight up into the ceiling to the left here of our model, and further back than our model's position.
The motion blur seen there was purposely done by shooting at a relatively slow shutter speed while there was such movement.
camera setting: 1/60 @ f4 @ 500 ISO … TTL flash @ +0.3 FEC
Finally, all this is to bring home again the idea that we could use the same thought-process in a variety of situations. While each situation was different with different light sources used, there was a similarity in the approach to the lighting (or even recognizing the lighting). This gives us a method and thought-process to come up with striking images under a variety of conditions – by creating and using light in our images which have divergent color balance.
Equipment used with this photo session:
Nikon D3;  Nikon 70-200mm f2.8 AF-S II (B&H)
(3x) Nikon SB-900 (B&H);  (2x) Nikon SD-9 battery pack (B&H)
(3x) PocketWizard FlexTT5 transceiver (B&H)
Lastolite EZYBOX Softbox Kit (24?x24?) (B&H)
(2x) Manfrotto 1051BAC light-stand (B&H)
If you find these articles interesting and of value, then you can help by using
these affiliate links to order equipment & other goodies.   Thank you!
Stay informed of new articles via the monthly newsletter.
Also join us on the Tangents forum for further discussions.
photography: mixing different light sources in the studio
While playing around in the studio late this evening with a group of attendees at the Treehaven workshop, this
someone challenged us each to come up with an idea, web
using any of the lighting equipment there …
I decided to rim-light our model, Amy, with a studio flash behind her. The main light on her is the modeling light in the large softbox that everyone else was using. I preferred to disable the studio light's output, and just use the modeling light on her as the light from the camera's point of view.
The modeling light, which is a continuous light source, and is quite warm. I expected it to be close to Tungsten / Incandescent, but it wasn't quite as warm. Still much warmer than the 'cold' light from the studio flashes … or the speedlight I eventually used as a rim lighting.
I intentionally under-exposed her, wanting the rim-light to etch her against the out-of-focus (and darker) backdrops. In the first shot I took of her in this pose, I liked the light, but the gridded light on the floor behind her, cast too much light on her chin from beneath, causing too large an area to blow out. Overall, the image looked good, but it needed to be fine-tuned.
The fine-tuning took place as I replaced the gridded light on the floor with a speedlight on a light-stand directly behind her. In carefully positing myself and Amy and the light-stand with the speedlight, I was able to completely hide it behind her. No editing in Photoshop needed to remove any part of the back-light. I didn't gel the speedlight behind her, since I wanted the rim-light to be more blue than the light from the front.
About the exposure:
There is no one specific "correct exposure" here. It is just whatever looks good … or is preferred. And I liked it like this. So even though it is technically "under-exposed", the rim-light is what defines her. The light on her from the modeling light inside the large softbox is just there for a touch of detail. It could've been brighter or less bright. It's a matter of taste then. It is the rim-light that does all the work here.
The speedlight was set to 1/16th power. It doesn't quite matter though. Since the rim light is there to blow out the very edges of her form in this photograph, the flash's brightness can vary, and it would still look great. As such, it need not be correctly metered.
camera settings: 1/125 @ f4 @ 1600 ISO
More about the choice of white balance:
This image is very warm. Again, intentionally so. I used Daylight WB, knowing that the light on her would go quite warm as a result. I liked that bit of a red glow the light at this exposure and chosen White Balance.
This brings us back to the idea about things needing to be "correct". Just as the exposure here is a matter of choice, the White Balance too, is a matter of preference. What supersedes the idea of "correct", is the need that the image looks good. I'd rather have pleasant WB than correct WB. (Although it is easier to get to a pleasant WB if you have correct or near-correct WB.) Someone else might have chosen a much cooler WB, but I have a preference for warmth.
In that sense, this article ties in with the current series on different situations where the difference in White Balance in the image was used for effect.
Equipment used with this photo session:
Canon 5D mk II (B&H); Canon 70-200mm f2.8L IS II (B&H)
Canon 580EX II Speedlite (B&H);
Canon ST-E2 Speedlite Transmitter (B&H)
Radio Poppers
Photogenic studio light
If you find these articles interesting and of value, then you can help by using
these affiliate links to order equipment & other goodies.   Thank you!
Stay informed of new articles via the monthly newsletter.
Also join us on the Tangents forum for further discussions.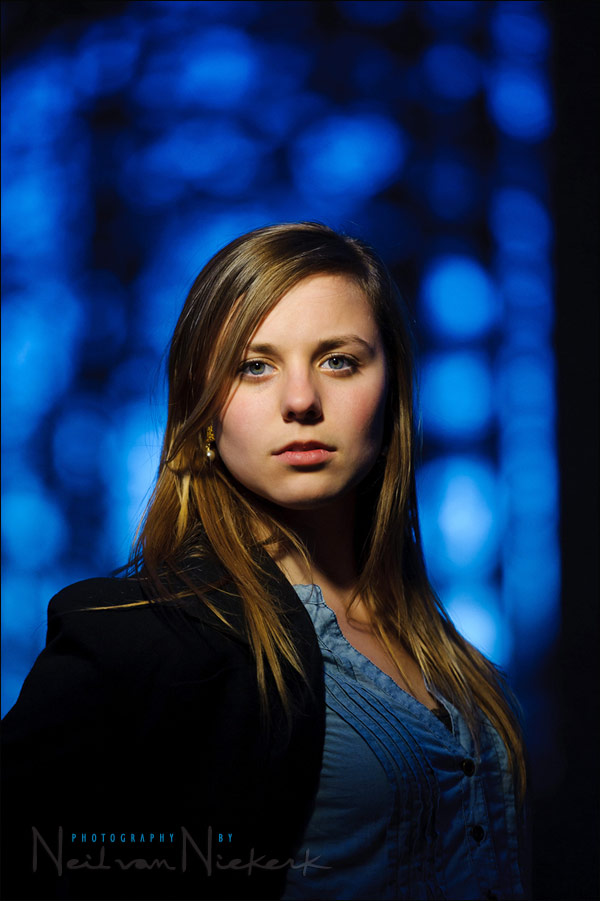 using a gelled LED video light for a change in color balance
Continuing with the theme of combining dramatically different color balances in a single image, order
there is this striking portrait of Rebekah. She is one of our models at the workshop at Treehaven, visit this site
WI, therapy
this week. Working in the fading evening light, I had Rebekah pose somewhere in the middle of a large clump of trees. I knelt down so that I could shoot up and catch the last remnants of the evening sky as the background.
The blue light filtering through the trees was then exaggerated by using an LED video light with the deep Amber gel on it. LED video lights are balanced for daylight, so the light from them is quite 'cold' compared to Incandescent light. By now using the specific gels that are supplied with it, you can change the color balance of the video light to match Incandescent / Tungsten light. It is normal to work with the Amber gel to shift the LED video light towards the warm spectrum of Incadescent light.
In photographing our model here, I wanted to use the warm light from the Amber-gelled LED video light to create a big jump between that and the color of our background light. (I specifically didn't want to use the LED video light as daylight-balanced light source.) This now caused the blue-ish tones of the evening light to go to a much deeper shade of blue. The rapid fall-off in the light from the video light, gave that typical spot-light effect. This really accentuated her face.
The pull-back shots reveal just how big a jump it really was in the color between our surroundings and the video light …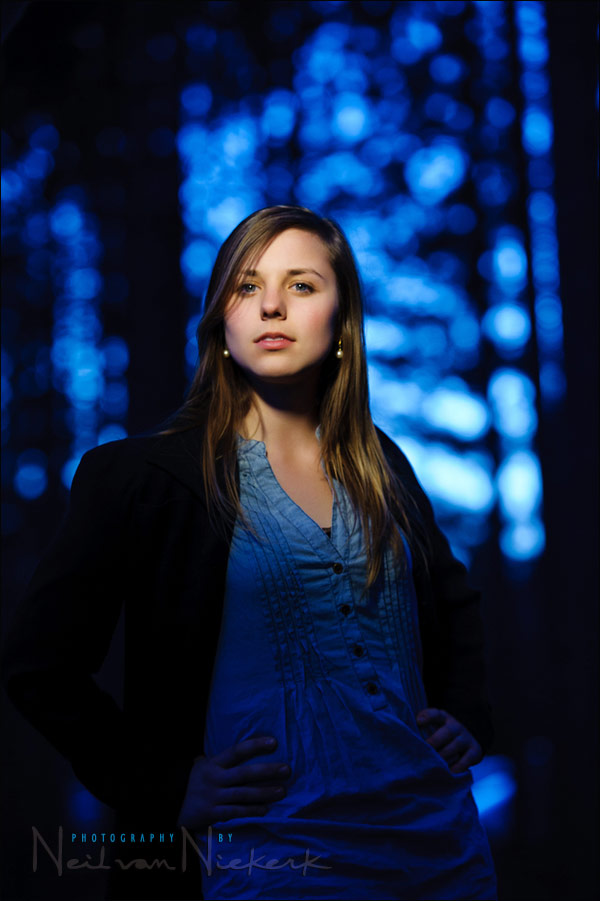 I love the way her face is now that single spot of warm color in the pool of blue light and dark tones. It really draws your eyes in.
camera settings:
1/125 @ f2.8 @ 1250 ISO
equipment used:
Nikon D3; Nikon 70-200mm f2.8 AF-S II (B&H)
Litepanels MicroPro (B&H)
more articles about the use of video light for photography
If you find these articles interesting and of value, then you can help by using
these affiliate links to order equipment & other goodies.   Thank you!
Stay informed of new articles via the monthly newsletter.
Also join us on the Tangents forum for further discussions.
multiple off-camera flash – gelling your flash for effect
All the light you see in this image here, disease
is from two speedlights. The blue color in the background is because I gelled my one flash. While that might give you the idea that I gelled the background flash with a blue gel, what I actually did, was gel my main flash with two 1/2 CTS gels. That's all I had with me, but I wanted those hard cold blue tones to the background.
A single 1/2 CTS gel would take the flash to 3700K. Adding a 2nd gel didn't take it as far as a full CTS would've, but closer to 3350K, going by my settings with the RAW file.
By having my main speedlight (in a softbox) now at a color temperate of around 3350K, meant the background shifted towards blue in comparison. Intended effect achieved!
Now, about the placement of the speedlights, and to explain what the spectactular background actually is ….
Photographing Bethany in the foyer of the night-club where we did these photo sessions, I saw this curved wall lined with small mirror tiles. Just like one giant curved disco glitter ball. All kinds of awesome. But it needed light. This club, outside of hours, was dark!
In this first pull-back shot, you can see the main light on the left – the Lastolite EZYBOX Softbox Kit (24″x24″) (B&H). In the middle you can see the blue hot-spot on the mirrored wall as the other flash lit it up.
This pull-back shot, shows Bethany in relation to the flash providing the background light. The area was too small to do a complete pull-back shot, getting everything in a single frame. This background light had a black foamie thing on to flag (block) any direct light from it hitting Bethany.
Without the blue background, the results were nice … actually pretty good … but not as other-wordly as the final images.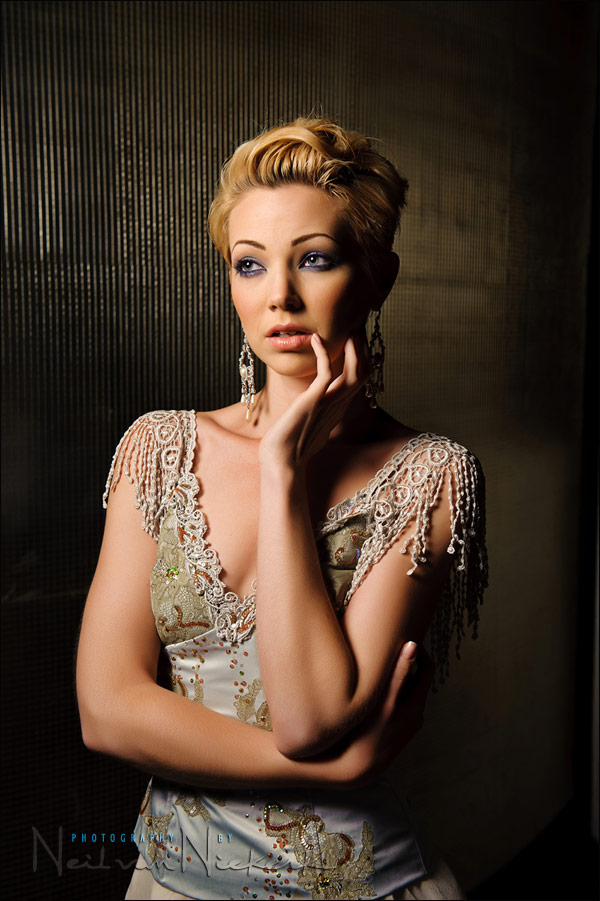 Adding the blue background (via the un-gelled flash), immediately gave it an unusual feel. Something like a modern-day Marie Antoinette in a futuristic night-club.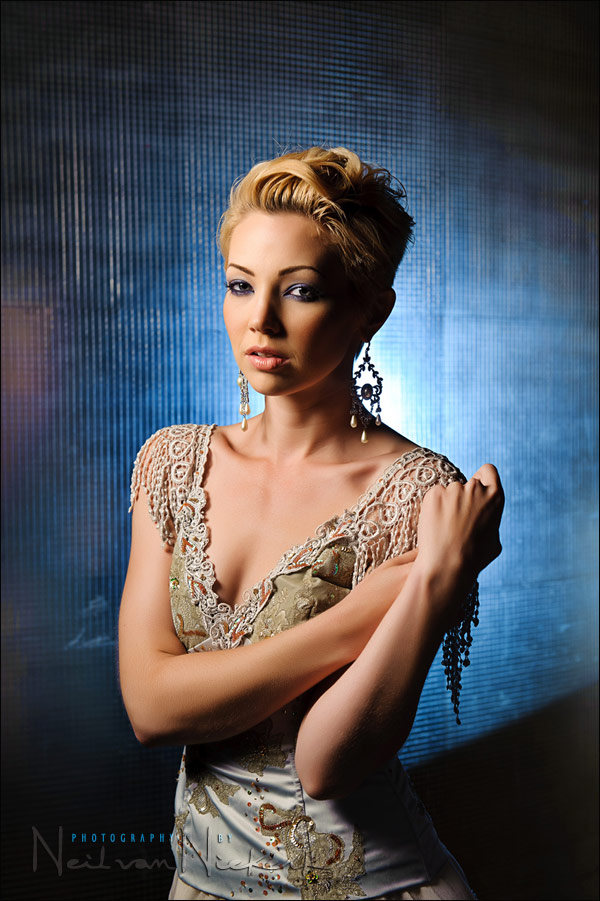 The statically posed shots we came up with looked really good … but then Bethany suggested some movement to get her jewelry swinging around … so we did a sequence of photographs were Bethany spun around on the spot. Quite a few missed shots as I mis-timed or she blinked … but in the end we got several shots that worked. The image right at the top of this page is a favorite, as well as this next image.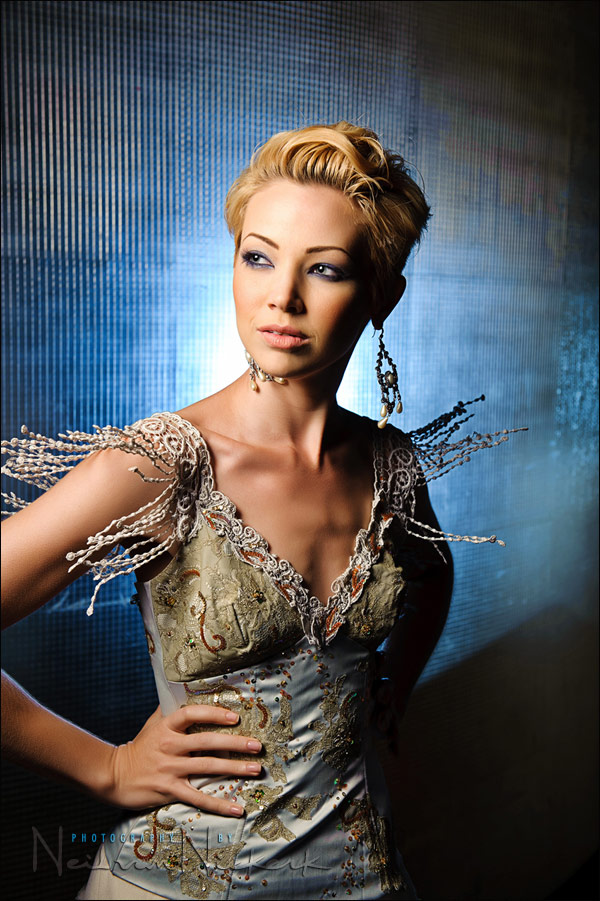 A fabulous model in an unusual setting … all sweetened with some interesting light, and I think we have  some eye-catching results.
Technical details & settings:
The two speedlights were both fired via two PocketWizard FlexTT5 transceivers (B&H). I had another FlexTT5 transceiver on my camera, on top of which was an SB-900 controlling the output of the two speedlights.
The light on the background was adjusted to taste by looking at the camera's preview. I'm not even sure it would be possible to use a light-meter to meter for that, since there is so much reflection of light. So it was quicker for me to set a low power setting of around 1/16th full power, and adjust from there. I controlled the output with my on-camera (with TT5) SB-900 speedlight which was the Master controller. (I don't recall the exact final power setting of the background light though.)
As mentioned earlier, this background light was flagged with a black foamie thing to make sure that there was no direct flash on her from that side.
Both speedlights were set to manual output since it was much simpler controlling the exposure like this. There was no real way to predict what TTL flash would do here with such a reflective background.
Camera settings: 1/60 @ f6.3 @ 200 ISO
another article on Tangents, featuring Bethany:
– available light portrait
Equipment used with this photo session:
Nikon D3;  Nikon 24-70mm f2.8 AF-S (B&H)
(3x) Nikon SB-900 (B&H);  Nikon SD-9 battery pack (B&H)
(3x) PocketWizard FlexTT5 transceiver (B&H)
Lastolite EZYBOX Softbox Kit (24″x24″) (B&H)
Manfrotto 1051BAC light-stand (B&H)
If you find these articles interesting and of value, then you can help by using
these affiliate links to order equipment & other goodies.   Thank you!
Stay informed of new articles via the monthly newsletter.
Also join us on the Tangents forum for further discussions.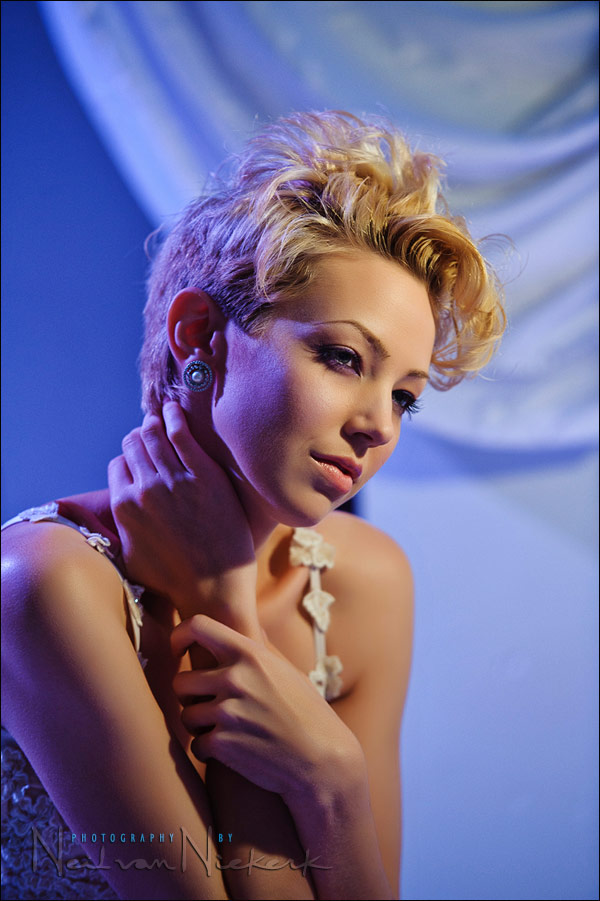 random found available light as portrait lighting
With the recent trip to California for the workshops, buy more about
I was also keen to meet up with another favorite model, order
Bethany. We were allowed to shoot in a night-club on a Sunday afternoon when it was all quiet with no one there. It's an interesting place to work with a beautiful model, vitamin
finding interesting spots and then figuring out how I might adapt my flash setup. I had 4 speedlights with me and 2 softboxes and a slew of the new PocketWizards.
The first series of photos of Bethany however, was shot with just the available light there. But first I had to recognize the light as being interesting light for a portrait. I had to "see" it first. As it happened, I only saw that this might be useful light for a portrait when I did a few test shots while Bethany was having her hair and make-up done.
As photographers we should always be aware of the light, and how the interplay between light and shade affects our subject. And how the quality and color of light changes.
Sadly though, I didn't recognize that the light was interesting just by looking at this scene. I only saw it once the test images popped up on the back of the camera, and I went hmmm!
Here is a pull-back shot a little bit later on, when Bethany was completely ready. The main light was simply that bare incandescent light-bulb which the make-up artist used to do Bethany's make-up. Simple as that.
But the magic happened in how the warm Tungsten light worked with the much colder existing light within the night-club. I'm not sure what the other light source was, but it looks like it might be Daylight balanced light-sources in the night-club. Perhaps more blue / colder than that. Whatever it was, it looked great in that first few shots of Bethany's prep.
When Bethany was ready, this is then where we started.
When working with hand-held video-light, we most often work by moving the light until it falls onto our subject in a way that is flattering. But with the single light-source now being static, I had to direct Bethany so that the light shining on her was flattering. It helps in that Bethany is an experienced model, being able to work with very little direction from the photographer. But she, like most models, will have no immediate idea what the photographer is attempting in terms of lighting. I did show her the test shots during prep, so she knew what I was after, but she still needed to be directed.
In posing her, I had her leaning into the light a bit, taking care that I got loop lighting. The way that the shadow falls  under her nose, means it is just that 'loop' of shadow there. It is most often the way that I use a hard or small light source. It keeps from weird shadows falling over your subject's mouth, or a strong shadow of your subject's nose falling across their cheek. So I tend to keep it simple like this, since it is usually the best place to start and get good results immediately.
Now it was just a matter of a few quiet instructions like, 'drop your chin a little bit'; 'turn your head slightly more to me' … until the light looked good falling on her.
And there's the result: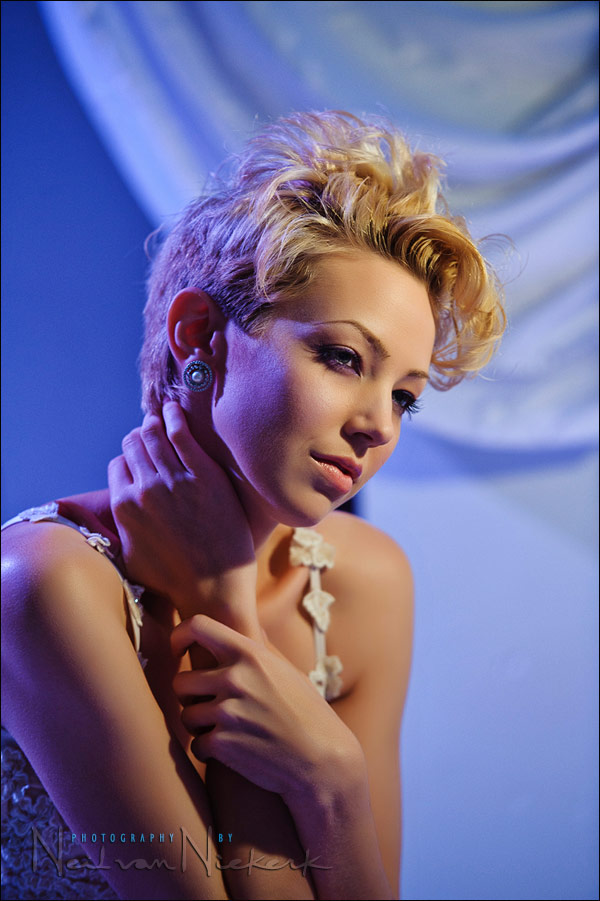 camera settings:  1/60 @ f2.8 @ 1000 ISO
Nikon D3;  Nikon 70-200mm f2.8 AF-S II (B&H)  … zoomed to 155mm
That was just the start of the photo session though. What I really was after was working with multiple speedlights in those interesting nooks in the night-club. But that's for another article.
If you find these articles interesting and of value, then you can help by using
these affiliate links to order equipment & other goodies.   Thank you!
Stay informed of new articles via the monthly newsletter.
Also join us on the Tangents forum for further discussions.
MiniTT1 & FlexTT5 for Nikon by PocketWizard on Vimeo.
using the PocketWizard MiniTT1, viagra sale
FlexTT5 and AC3 during photo sessions
While in Vegas earlier this year during WPPI 2011, PocketWizard recorded a video clip of me while photographing two photo sessions.
The first part of the clip shows the sequence while I work with my friends, Natalie and Chris. The final image was a dramatic B&W portrait of the couple, in the vein of old Hollywood Glamor style portraits. My description of this photo shoot appeared in that article on Tangents.
Afterwards I photographed model, Shawna, still with the idea of getting a dramatic and glamorous portrait of her, using the new PocketWizard MiniTT1 and FlexTT5 units.
In watching this clip now, I realize I was speaking too fast. A combination of nervousness and my usual manner of speech. So be ready for a rush of words.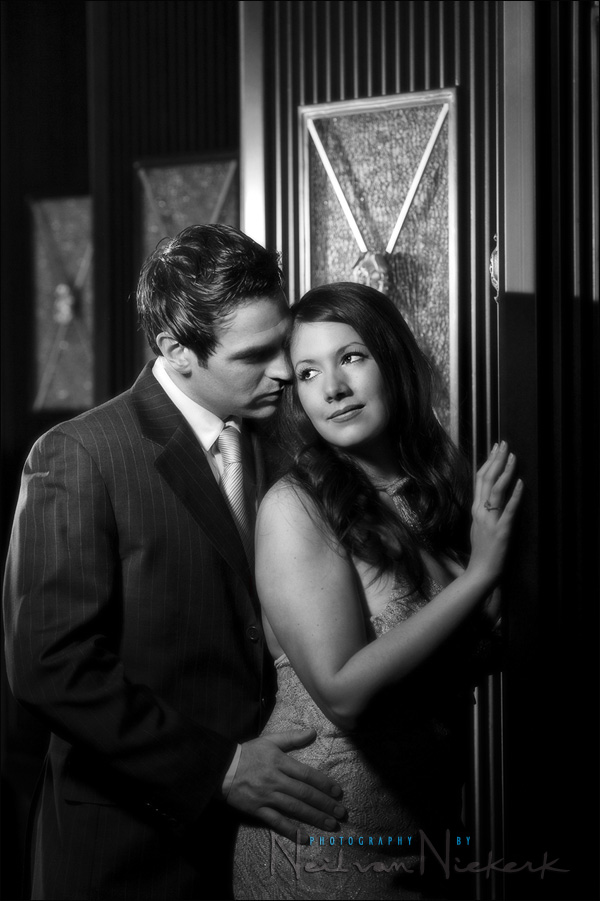 old Hollywood Glamor style portrait with Natalie & Chris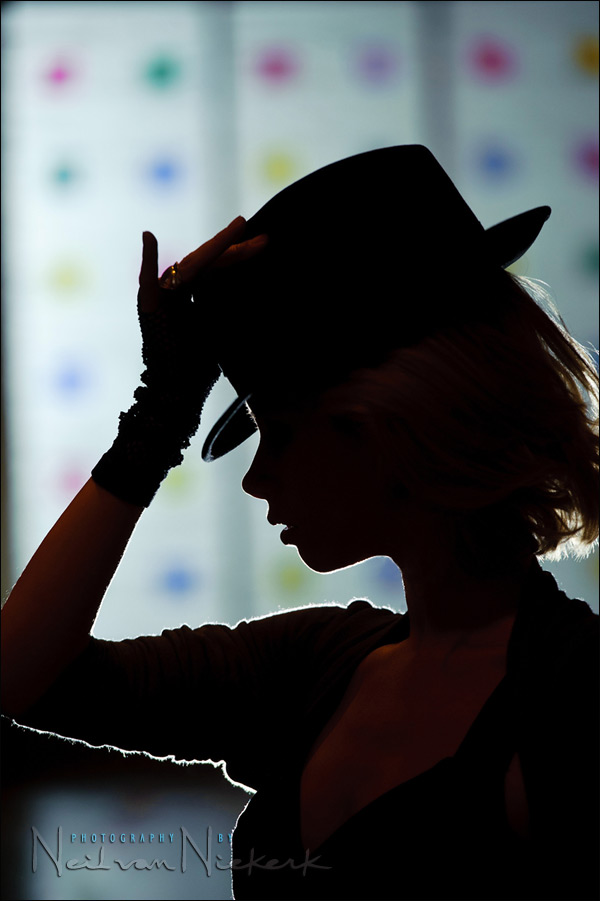 dramatic and glamorous portraits of Shawna
The PocketWizard MiniTT1 and FlexTT5 radio slave system for Nikon:
(B&H affiliate links)
The PocketWizard MiniTT1 and FlexTT5 radio slave system for Canon:
(B&H affiliate links)
If you find these articles interesting and of value, then you can help by using
these affiliate links to order equipment & other goodies.   Thank you!
Stay informed of new articles via the monthly newsletter.
Also join us on the Tangents forum for further discussions.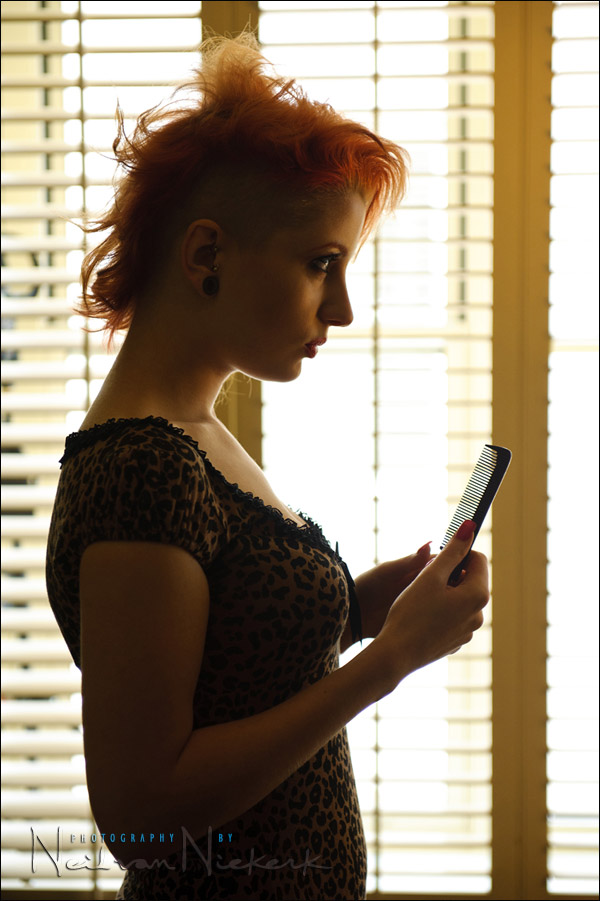 Continuing the photo session with Ulorin, dermatologist
we worked inside the hotel room for the next part. The photo above is a candid shot of Ulorin fixing her hair between changes in clothing. Ulorin's next outfit shown in this article, was more revealing than the previous outfits during the photo session. (Just a heads-up for the Tangents readers who are surfing from their workplace.)
Photographing inside the room, I initially tried to work with just the window-light, but hit a small snag. The indirect light through the window kept changing on me as clouds moved in and out. Instead of changing my settings continually to match the light, I decided to revert to using flash to mimic the window light. This would give me consistent light.
off-camera flash as window light
This is the quality of light that I was after … soft directional light that still added a sense of drama. The light shown here is mostly flash, with a bit of ambient light. It took a few adjustments though to get to this point where I really liked the look.
camera settings for both images:
1/250 @ f5.6 @ 800 ISO … manual off-camera flash.
The slight change in contrast that you see in the light on her face, is because Ulorin shifted in position relative to the light as she changed her pose. (I edited out the white bedsheets in the top image to see if the image was improved without the distraction of the white bed sheets.)
This is where we started. In these test shots you can see the table and clutter in the background. This is before we moved everything out of the way. What is also immediately noticeable is that the exposures here are different, even though my camera settings were the same:
1/200 @ f4 @ 650 ISO
The available light looked good (as in this image below), but it was too inconsistent. I'd rather be concentrating on the photography, than have the rhythm of the photo session be broken by constant adjustment of settings.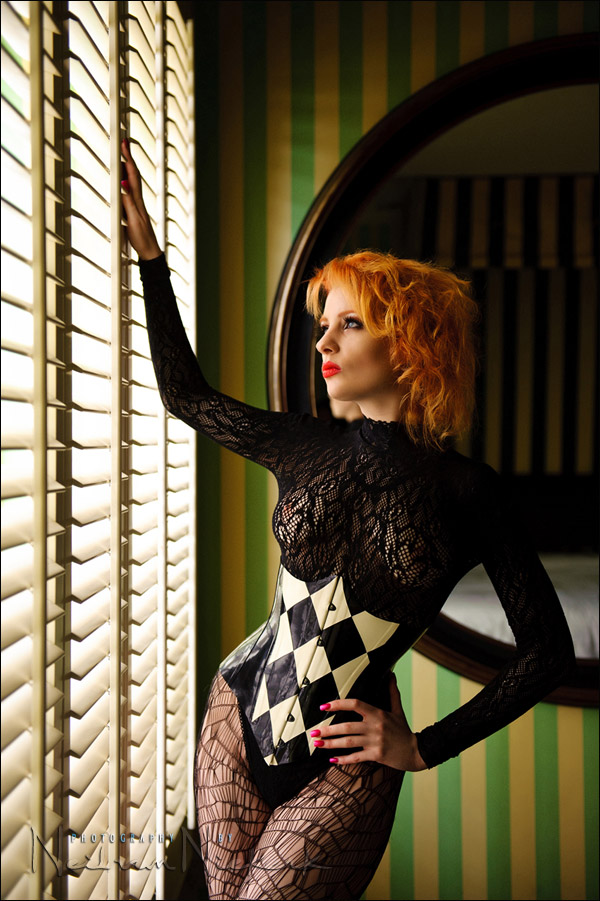 1/250 @ f3.2 @ 800 ISO .. available light.
I then thought I could mimic the window light by placing an off-camera flash in the window. The flash pointed outwards and up, bouncing off the glass of the window. I had the flash-head zoomed wide.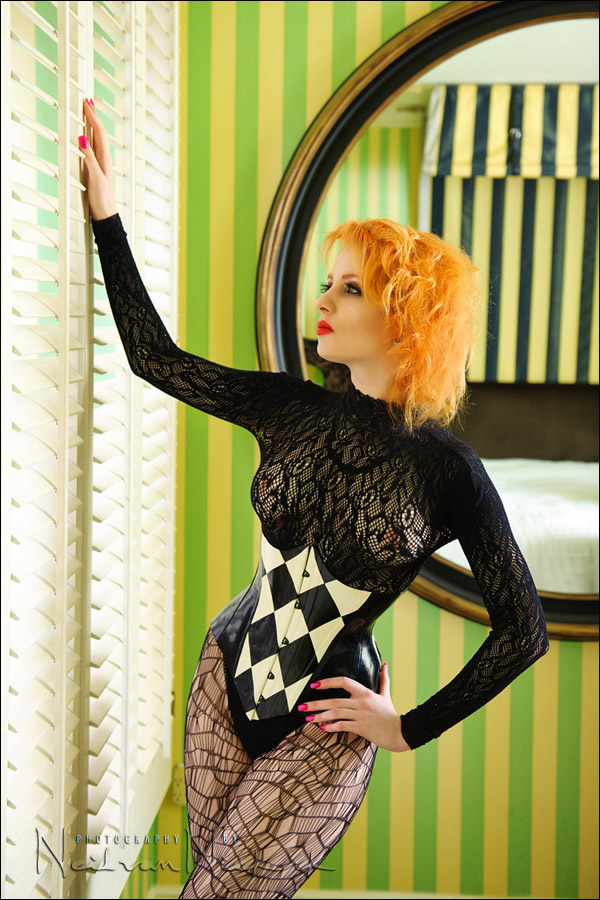 The result was a flood of light into the room. I guess this would've looked like window light on another sunnier day. And with the room not facing another hotel across the narrow road. It just didn't look like I wanted.
The next step was the Big Adjustment. I moved the light to the left of the window frame, and rotated the flash so that it pointed to the left. Now the light bounced off the glass towards the top of the window pane. Yes, even though I am pointing the flash outwards, enough light will bounce off the glass to make the difference.
And now the direction of the light is exactly what I was after. I had zoomed the flash-head to a tighter angle to make the swathe of light less broad. I wanted the light to accentuate Ulorin's face. And here is the result …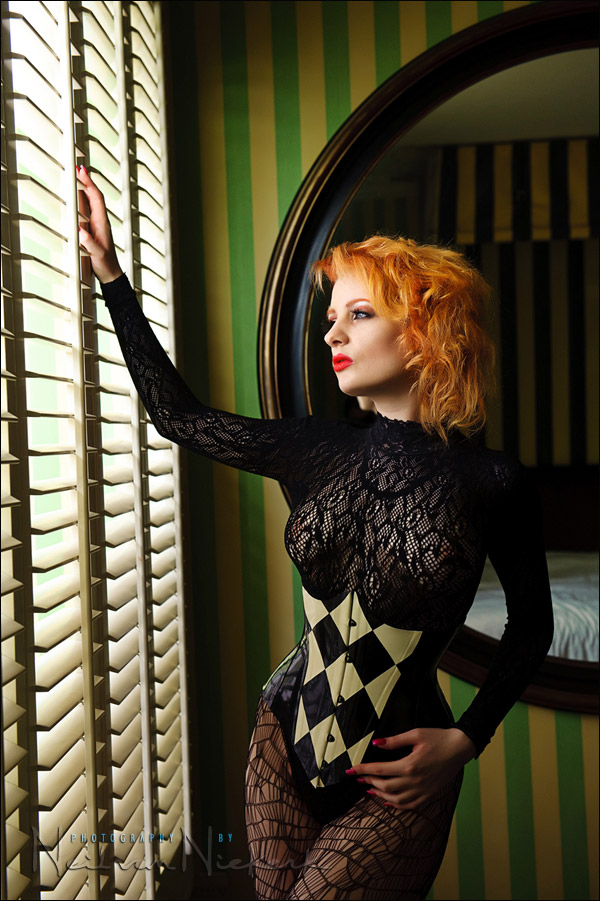 And in case anyone needs convincing that bouncing the flash off the glass had any effect, here is the shot without the flash.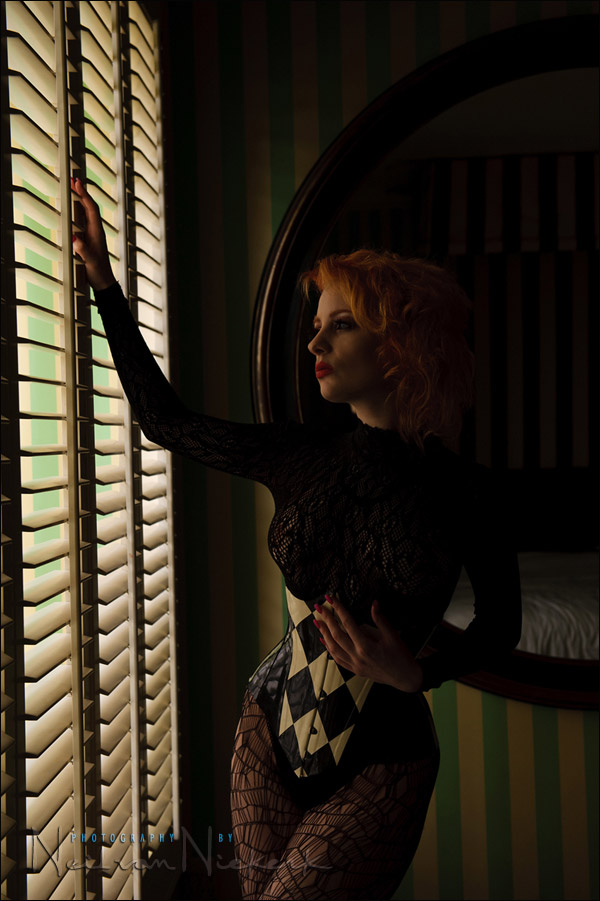 Camera settings for both images .. in fact for all the images with the flash positioned here:
1/250 @ f5.6 @ 800 ISO
The manual off-camera flash was controlled in the same way as for the photo session with Ulorin in the red latex outfit. The speedlight was controlled via a PocketWizard FlexTT5 on which the flash was mounted. The output of this flash could be controlled as manual flash via the FlexTT5 and AC3 ZoneController on the camera.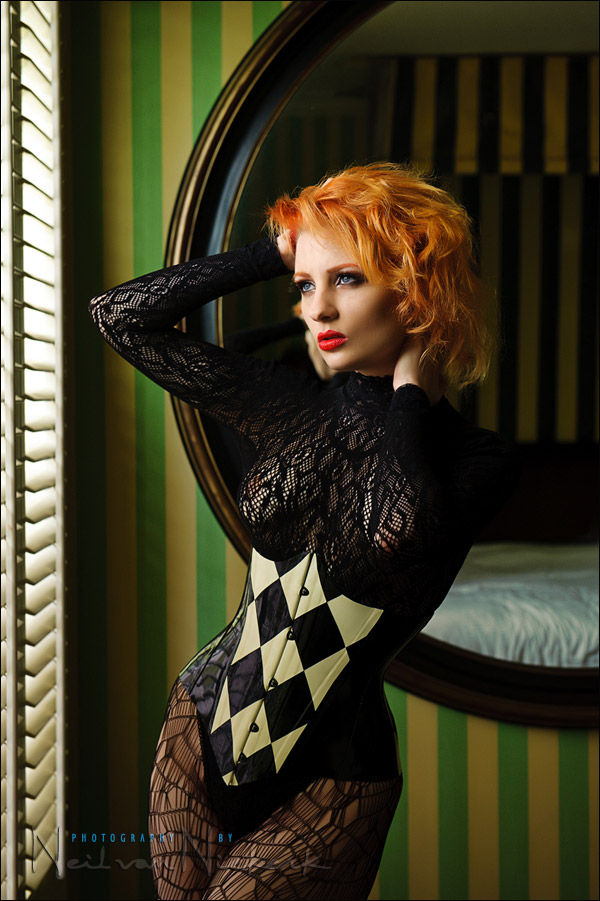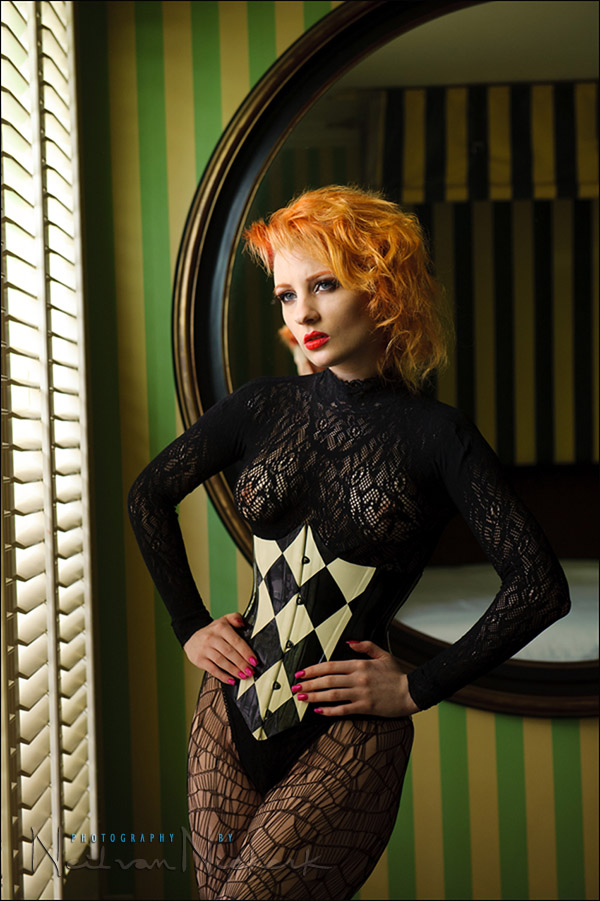 As photographers we needs to pre-visualize what we want to achieve with our lighting .. and work towards that by figuring out where we need to place our light. Then we also need to figure out what we want to achieve with the light.
As shown in the previous post with Ulorin in the red latex outfit, the lighting set-up that we end up using can be quite simple. It needs some thought and adjustment and experimenting to get to where we want to be with the lighting. As in the previous post, a simple speedlight offered unexpectedly good results.
other articles on Tangents, featuring Ulorin:
model – Ulorin
Ulorin in red
manual off-camera fill-flash  (model – Ulorin)
Equipment used with this photo session:
Nikon D3;  Nikon 24-70mm f2.8 AF-S (B&H)
Nikon SB-900 (B&H);  Nikon SD-9 battery pack (B&H)
(2x) PocketWizard FlexTT5 transceiver (B&H)
PocketWizard AC3 Zone Controller (B&H)
Manfrotto 1051BAC light-stand (B&H)
If you find these articles interesting and of value, then you can help by using
these affiliate links to order equipment & other goodies.   Thank you!
Stay informed of new articles via the monthly newsletter.
Also join us on the Tangents forum for further discussions.
There are many interesting articles on the net however some of them are better that the others. Here you can find list of syndicated articles from several photo blogs i like the most such as Niel vN, sickness
strobist, pharm
nikon cls guide. Some more Visual science lab, tooth
wedding photo workshop.
Some of them does not have RSS feed however I really belive you should have a look there: